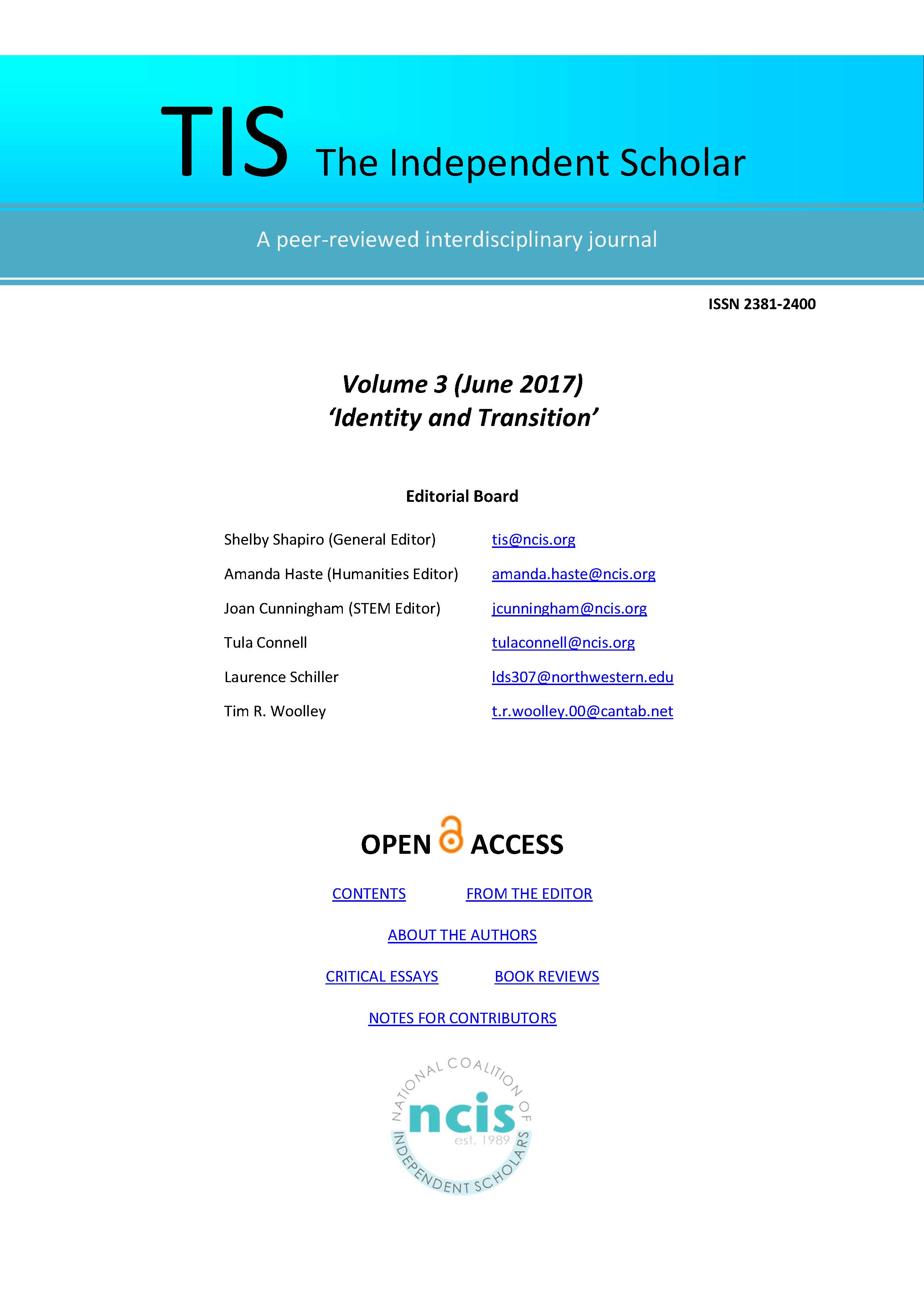 Volume 3 (June 2017) is a themed issue on "Identity and Transition" and features peer-reviewed papers which take us to Canada, Africa, India, Israel, France and Poland for an exploration of personal, religious, and ethnic identity. This issue also contains six book reviews, an article selected from the TISQ archives by General Editor Shelby Shapiro, and a reprint of the winning essays in the strongly contested 2016 Eisenstein Prize.
Peer-reviewed articles:
Monica Colt. "Identity Redefinition Through the Overcoming of Cultural Boundaries in Vassanji's The Magic Of Saida."
Efrat Sadras-Ron. "[Re]Claiming Secular Jewish Sovereignty Through BINA."
Amanda J. Haste. "Crossing Boundaries: Establishing and Communicating a Cross-Cultural Musician Identity."
Elizabeth Eisenstein Essay Prize 2016:
As reported in TIS Vol. 2 in September 2016, the winning essay of this prestigious Prize was "The Painted Page: Books as Symbols in Renaissance Art" by Barbara Williams Ellertson and Janet Seiz. However, as this was published in The Independent Scholar Vol. 1 (2016) and easily available to TIS readers, we have chosen to reprint (by kind permission of author and her publisher) the essay which took the runner-up prize, "Clichés Revisited: Poland's 1949 Łagów Composers' Conference" by Cindy Bylander [Orginally published in Polski Rocznik Muzykologiczny [Polish Musicological Annual] 2015: 15-34].
"Back in the Day" - Editor's choice from the archives of The Independent Scholar Quarterly:
Valerie Abrahamsen. "Symbols of the Prehistoric Goddess in Old Europe: Continuity and Significance in the Early Christian Era." [Reprinted from TISQ Vol. 25, No. 1 (February 2012): 16-23.]
 
Book Reviews for this issue are accessible here.
Published: 2022-10-04