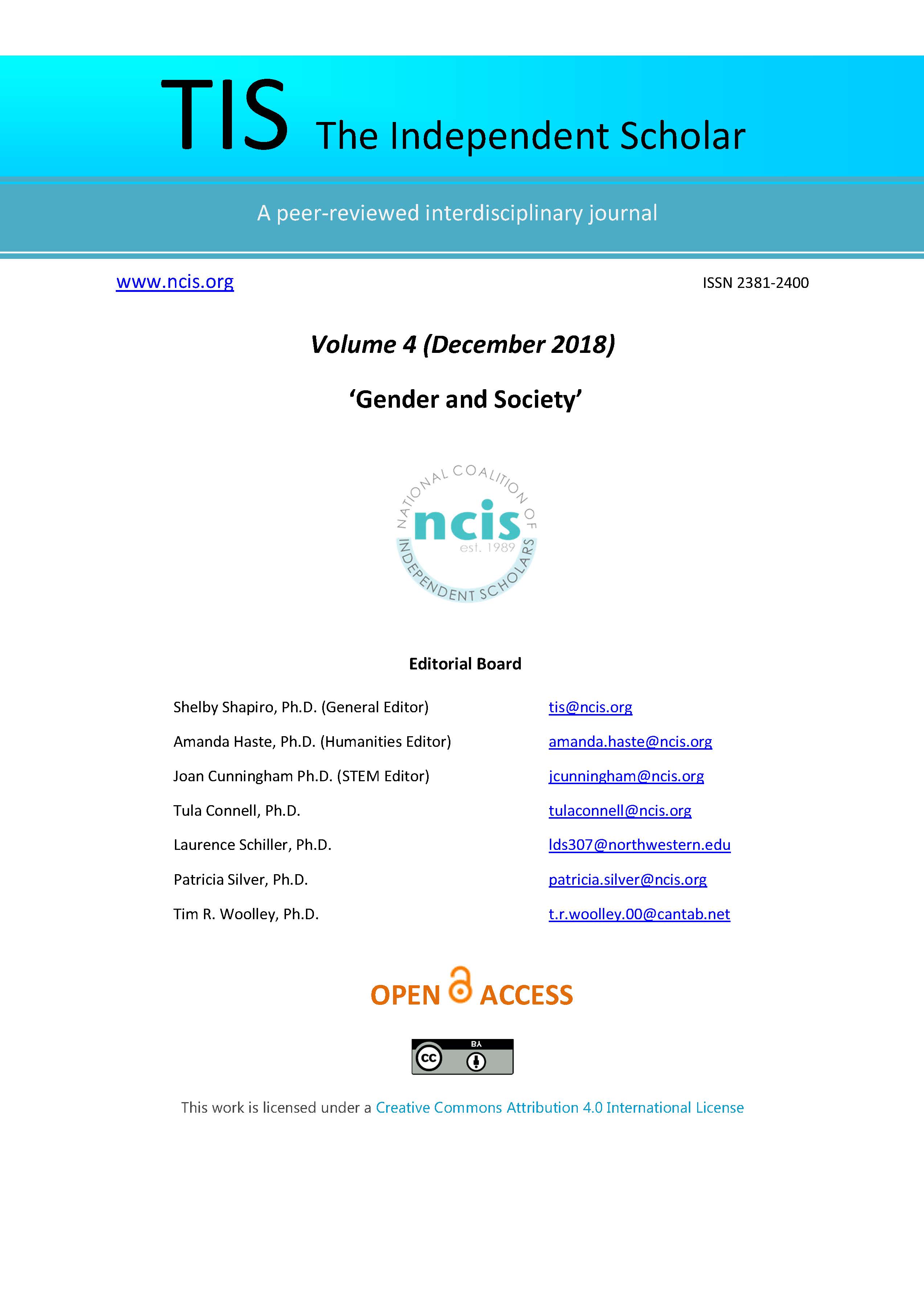 Volume 4 (December 2018) is a themed issue on "Gender and Society" in which three authors explore the activism of Helen Taylor in 19th-century London, serialized novels aimed at immigrant Jewish women in early 20th-century New York, and the gender issues in academia and the resulting founding of NCIS in the late 20th century. This issue also contains three book reviews, an article selected from the TISQ archives by General Editor Shelby Shapiro, and a reprint of one of the 2017 Eisenstein Prize-winning essays.
Peer-reviewed articles:
Janet Smith. "She Fought for the People: Helen Taylor's Work for the Advancement of Socialism and Feminism on the London School Board, 1876-85." 
Shelby Shapiro. "Another Guest at the Wedding, or Continuing Dilemmas: Problems of Acculturation in Three Yiddish Serialized Novels."
Susan Roth Breitzer. "Gender, Independent Scholarship, and the Origins of the National Coalition of Independent Scholars."  
 
Elizabeth Eisenstein Essay Prize 2017:
A strong field resulted in the jury awarding the Prize jointly to Patricia Silver for "Remembering Abuela: Memory, Authenticity and Place in Puerto Rican Orlando," Latino Studies 13.3: 376–401; and Toni Vogel Carey for "Adam Smith's Invisible Hand: A Brief History," Adam Smith Review 9 (2017): 88-104. Although the publishers of Latino Studies have not responded to our requests to reprint Dr Silver's article, we are delighted to be able to reprint Dr Carey's winning essay here. [Reprinted by permission.]
"Back in the Day" - Editor's choice from the archives of The Independent Scholar Quarterly:
Therese Boos Dykeman. "Voltairine de Cleyre (1866-1912): Activist Scholar Without Borders"  [Reprinted from The Independent Scholar Quarterly 22, 1 (Spring 2008): 8-11]
Book Reviews for this issue are accessible here.
Published: 2022-10-04